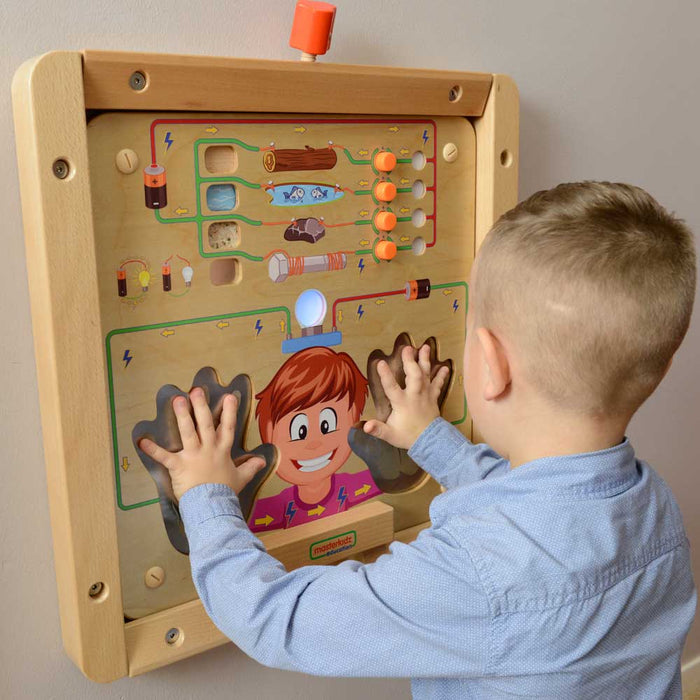 Conductivity Experiment Wall Element
Available soon
Original price
$269.95
-
Original price
$269.95
Electricity is the most versatile energy source that we have. Lights, fans, computers and most other electrical appliances are powered up by electric current. For an electric current to happen, there must be a circuit. A circuit is a closed path or loop around which an electric current flows. This Conductivity Experiment wall panel comes with 2 electric circuits. The circuit on the upper part is still an open circuit requiring children to make it a closed circuit by pressing one of the 4 buttons. Each button represents 1 type of material of different conductivity. If plastic or tile is chosen, the light won't be turned on because electric current cannot pass through insulating materials. Another circuit is also an open circuit. Children will be asked to use their bodies as connectors to make it a closed circuit. When a child put both hands on the panel, the light will turn on! Children will be amazed by this phenomenon. Teaching them human bodies are electric conductive cannot be easier.
Activity Wall Boards can be used as a floor or table activity, mounted to a wall or with the Masterkidz Free-standing Painting Window and the Desktop Painting Window.
Made from European Birch plywood and Beech Wood (FSC).
Size of board: 460 x 460mm.
Age: 3+ years.