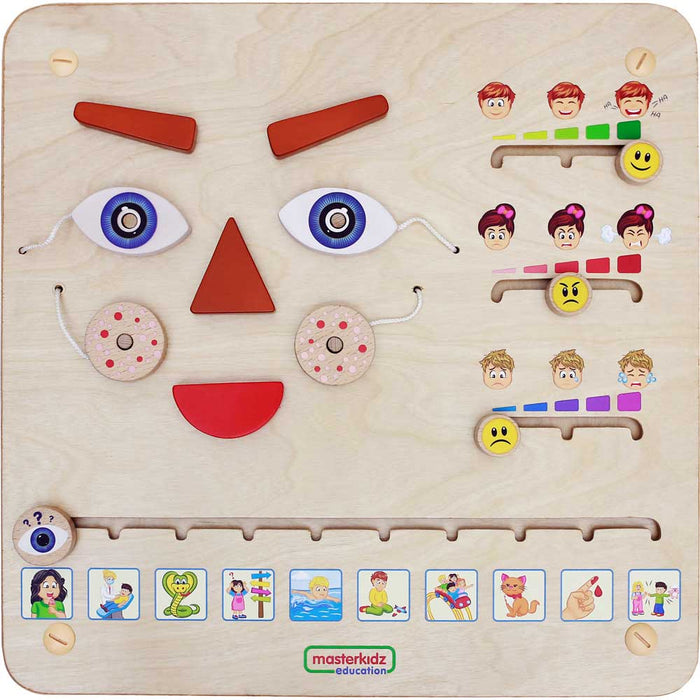 How Are You Feeling Wall Element
Trade Price
Trade Price
Original price
$149.95
-
Original price
$149.95
Helping children to identify and label emotions is an important first step emotional skills learning. Many children do not yet have the vocabulary to identify feeling words like angry or frustrated, or have the skills to "read" facial cues or to interpret body language. This "How Are You Feeling?" wall element features a make-your-own-expression face allowing a child to express his emotion by adjusting the directions of the eye brows, eyes, nose and mouth. He can also add tears or flush on his chins when he is sad or embarrassed. We are also introducing 3 mood meters: 3 axes representing happiness, sadness and anger (Eash axis ranges from 1 to 5). Children can show adults how happy they are, how angry they are or how sad they are by easily sliding the wooden pegs to the right position. When a child is telling he is at degree "5" on the Sadness Axis, adults can ask him why he is feeling very sad and offer help to the child. Or when when a child is extremely happy, we can encourage her to share with other children her happiness. Finally, there are 10 circumstances or objects printed on the panel, teachers will choose one of the them and ask a child to make up a facial expression and slide the mood meters to express how his feelings would be. This could be a very interesting game as children could have very opposite reactions. For example, some children loves cats and some children are scared of cats.
Activity Wall Boards can be used as a floor or table activity, mounted to a wall or with the Masterkidz Free-standing Painting Window and the Desktop Painting Window.
Made from Russian Birch plywood and Beech Wood wood (FSC).
Size of board: 460 x 460mm.
Age: 3+ years.