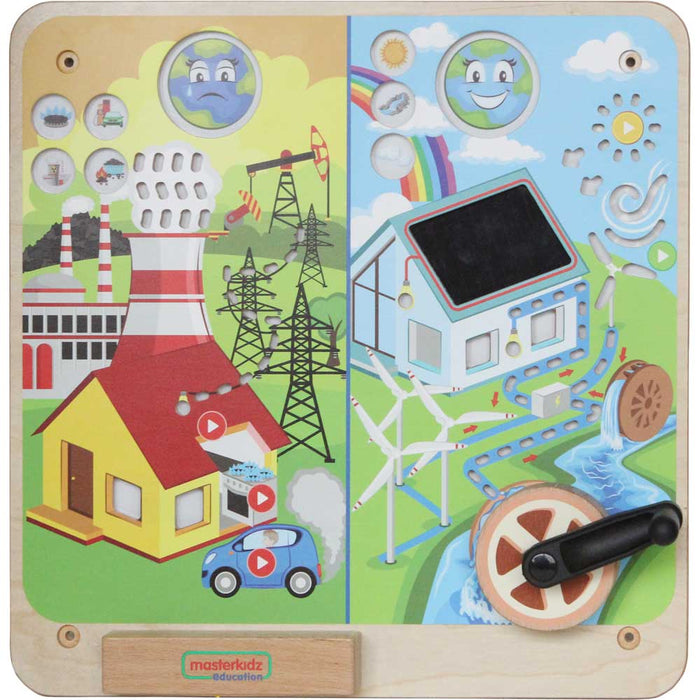 Renewable Energy & Non-Renewal Energy Wall Element
Trade Price
Trade Price
Original price
$299.95
-
Original price
$299.95
Non-Renewable Energy Why do We Need to Teach Kids about Renewable Energy? Today, most of the world's energy comes from fossil fuels. It is primarily what we use for electricity, heat, and transportation. Fossil fuels are the raw materials for our gas, petrol, diesel, coal and oil. Mining and consumption of fossil fuels cause a lot energy and pollution.
Renewable Energy
Various types of renewable energy are being explored to tackle the effects and growth of climate change. They include solar energy, wind energy, hydroelectric energy, biomass, and other emerging sources. These are energy sources which can be used without depleting the resource e.g regardless of how much energy we convert from the sun, our use will not impact its form.
Children need to learn about renewable energy practices which could potentially salvage their futures. They can grow up with these practices, as opposed to adults who have to adapt. This wall element is split into 2 halves. The left side is an unhappy earth with consumptions of coals, fuels, radioactive energy and other non-renewable resources. The right side is a happy earth when people are only consuming renewable energy such as wind power, hydropower and solar power. Lighting effects are used to show how different types of energy are affecting our lives. There is a real solar-powered roof panel lighting up a light in a house, The "hand-crank" hydropower generator helps children visualize how water flows generate power.
Activity Wall Boards can be used as a floor or table activity, mounted to a wall or with the Masterkidz Free-standing Painting Window and the Desktop Painting Window.
Made from Russian Birch plywood and Beech Wood wood (FSC).
Size of board: 460 x 460mm.
Age: 3+ years.